Revlon's Volcanic Oil Absorbing Roller has gained popularity on TikTok for its ability to absorb excess oil quickly and efficiently.
The tool also has over 16,000 five-star reviews on Amazon.
One publisher tested the tool and was impressed with the results.
While scrolling through my TikTok feed recently, I came across a video of one of my favorite beauty influencers using a weirdly shaped tool to remove excess oil from her face. In the video, she rolled the tool over an oily area and the section turned dull in two seconds flat. I saw tons of different beauty tips on TikTok – from applying foundation with a jade roller to filling the eyebrows with eye shadow – but it was unlike anything I had seen previously. It honestly sounded like magic. Once I figured out what the tool was, I knew I had to get my hands on it immediately. Let me introduce you: the Revlon Oil Absorbing Volcanic Roller ($ 10).
Revlon Oil Absorbing Volcanic Roller is a facial roller made from real volcanic stone, which is apparently amazing at absorbing excess oil and shine. All you need to do is roll it over your skin and it removes the oil without disturbing your makeup or other skin care products. It is also reusable – the ball comes out of the top and can be washed and used over and over again.
I have dry, acne-prone skin and usually don't have too many oily spots. However, some products (including the occasional powder) can cause pimples to appear on my skin, so I was excited about the prospect of reducing the number of products I needed to use on my face. If I could eliminate the need for tons of powder and use a simple tool instead, I would absolutely be sold.
To use the Volcanic Oil Absorbing Roller, the instructions say to remove the cap and then gently roll the stone over any areas where excess oil has accumulated. I tested this product twice: once with makeup on and once without makeup. As I mentioned my skin is pretty dry but sometimes I get a bit of oil buildup on my forehead and around my nose.
The first time I tried it, I immediately loved the feeling of rolling on my skin. It looks like a jade roller, but because it's smaller and rounder in shape, it was able to touch areas that my typical facial massage tools couldn't. Plus, it rolled the excess oil off my forehead and around my nose in two seconds flat.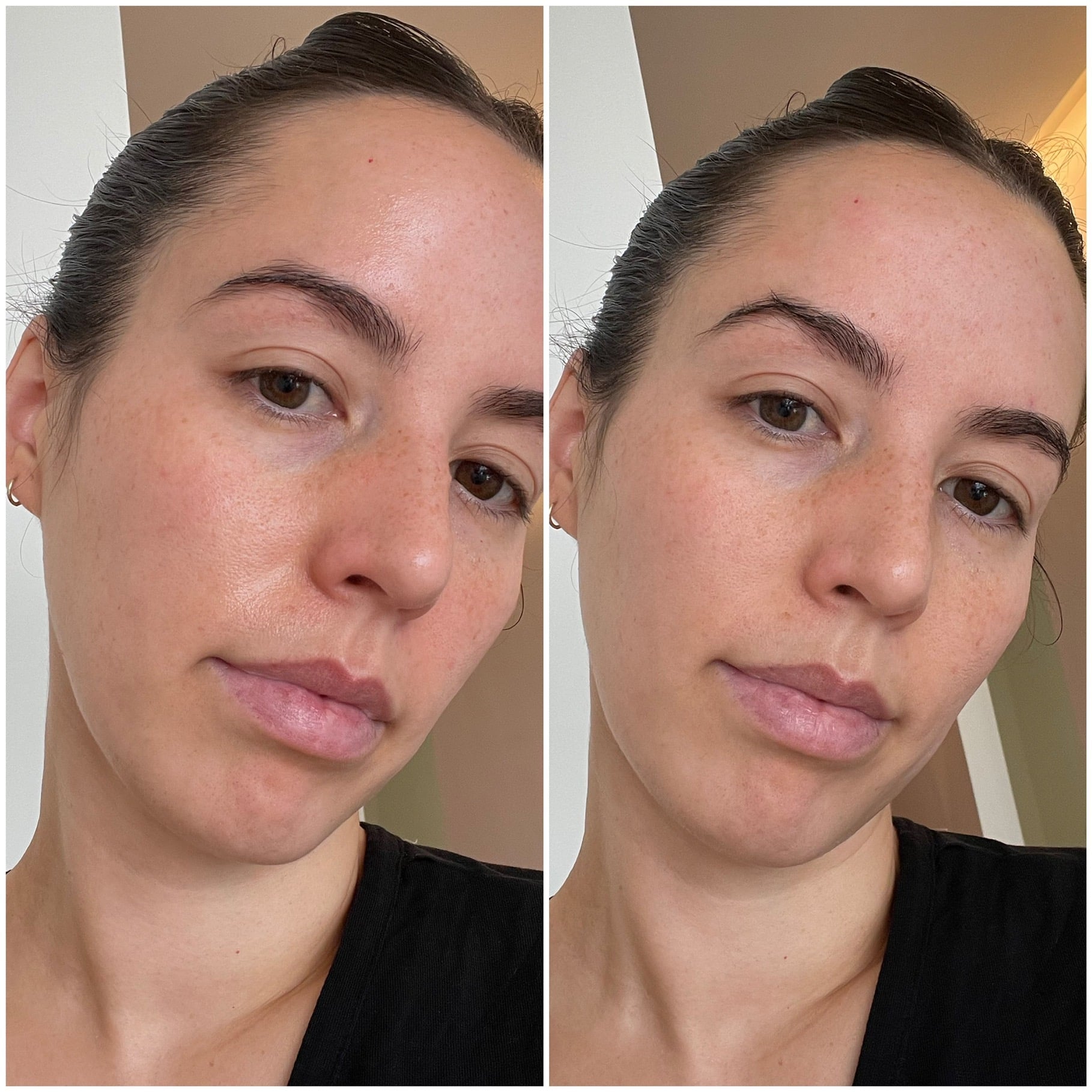 To test this product with makeup, I applied all of my cosmetics as usual, including my translucent powder. I usually go in afterwards with a thicker powder and place the area around my chin, between my eyebrows, and around my nose, but this time I decided to skip those steps and instead see if the roller could handle these areas without lifting the makeup I had already applied.
I was shocked when he gave my skin a matte finish without removing any makeup. I found myself using this roller two more times throughout the day, just to touch up my T-zone, and it didn't spoil the finish of my face products at all, which was just as surprising the second and second. the third time.
When it comes time to clean it, all you need to do is twist the locking ring around the stone, remove it, and wash it with lukewarm water and cleanser. Once air dried, it can return to the handy holder. At just $ 10, I think it's a product that definitely has its value. I love that it can be reused and completely eliminates the need for blotting paper and the application of excess powders. I also like that it's small enough to fit into a small purse, so it's easy to carry on the go.
Even though I don't have oily skin, I still think this product works wonders and would be even more beneficial for those with oily skin. This is a product that I will start to take with me everywhere, and will probably buy a few as gifts for my girlfriends. If you're looking for the answer to managing your oily skin, Revlon has you covered.
Evaluation:

Image Source: POPSUGAR Photography / Renee Rodriguez