Applying foundation is one of the first steps in a makeup routine. In some cases, it also works as a moisturizer or sunscreen. Like any other beauty product, foundations should also be chosen according to your skin type.
In particular, oily skin can become a bit difficult to manage. Applying makeup to an already oily and shiny complexion can affect your overall appearance. But don't be discouraged! If you follow the right steps and use a product compatible with your skin type, you can achieve the makeup you want.
Ideally, water-based foundations with a matte finish are suitable for oily skin. These formulas don't melt easily and can withstand humidity for longer hours. When looking for foundations for oily skin, look for something that's smudge-proof, sweat-proof, and oil-free. If you look through the ingredient list, you'll get a good idea of ​​the texture of the foundation.
For added reassurance, you can also test a few drops of the solution on part of your skin. Another reliable way to know the formulation is to read product reviews online by verified customers.
However, if your skin is oily and sensitive, you have to be a little careful with your selection. It is advisable to choose a dermatologically tested solution. You can also consult a skincare expert to find out if the foundation is suitable for acne-prone skin and does not cause irritation or redness.
Although you can find many ranges of foundations in the market, it can be difficult to choose the one that best suits your skin type and skin tone. To help you find the best foundations for oily skin, we have selected the following product list. It contains some of the most unique products, both luxurious and affordable, made by top brands for you to explore.
Here are some of the best foundations for oily skin
Looking for a foundation with sun protection? If so, you'll find the perfect solution in MAC's Studio Fix Fluid Foundation, which has a broad-spectrum SPF 15. It is durable, lightweight and performs like the best foundation for oily skin in summer. The solution delivers flawless shine to your skin with seamless coverage.
Image: Courtesy of Tata Cliq Luxury
Maybelline New York launched the new Fit Me collection, which is one of the best foundation for oily skin. This matte liquid foundation blends easily into skin to give you a naturally glowing look. It provides full coverage throughout the day and is suitable for acne-prone skin. Be a recommended by dermatologists foundation, it is safe to apply to all skin types and contains no harsh chemicals.
Image: Courtesy of Maybelline
Look flawless with Bobbi Brown's new weightless foundation. The solution is breathable and soft on your skin all day while covering all your imperfections. The foundation is carefully crafted by a team of makeup artists after testing and researching over 7000 skin tones. It's quite an achievement! Now pick up your matching shade at your nearest cosmetics store.
Image: Courtesy of Bobbi Brown
Achieve an even complexion and say goodbye to dark circles with Milani's 2-in-1 foundation. The formula works as both a concealer and a foundation while staying on the skin for approximately 16 hours. The best part is that the foundation is oil-free and offers a refined texture with a dewy finish. Moreover, you can choose your favorite from 45 different shades.
Image: Courtesy of Milani Cosmetics
Clinique is known for its skin-loving products and this unique foundation is no exception. Infused with salicylic acid, this medicated formula is the best foundation for oily skin and acne. Salicylic acid helps heal rashes and fade skin blemishes. If you need to add a fresh, glowing tint to your face without causing irritation, this is a foundation for you.
Image: Courtesy of Clinique
Enjoy the day with 24 Hour Liquid Foundation from L'Oreal Paris. The solution keeps its promises and remains intact throughout the day. Sweatproof and highly pigmented, this foundation could be your best friend on a sunny day, especially with oily skin. It offers broad-spectrum protection with SPF 18 and imparts a natural shine, proving to be best foundation for oily skin.
Image: Courtesy L'Oreal Paris
Here's a long-wearing, oil-free liquid foundation from Revlon to keep your skin looking flawless. It provides medium to full coverage with a semi-soft matte finish. The solution quickly blends with your skin and leaves it with a warm, golden glow. This foundation also contains SPF 15, making it an ideal choice for a sweaty summer day.
Image: Courtesy of Amazon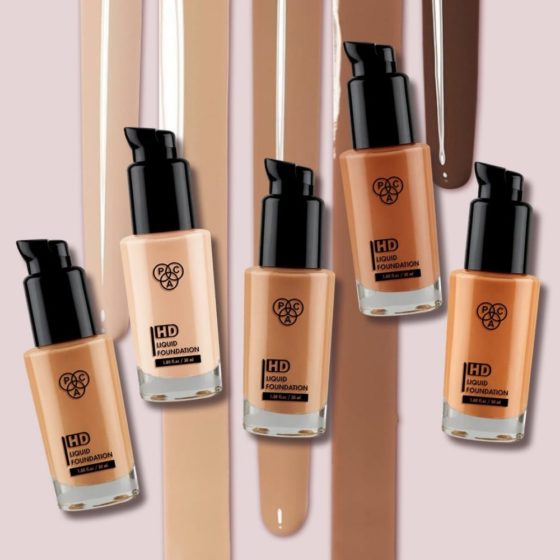 Add a luminous glow to your face and skin with one of the best foundations – PAC's HD Liquid Foundation. The formula is compatible with all skin types. It is almost weightless and stays effortlessly on the skin for up to 12 hours. It is one of best foundations for oily skin, large pores and to cover imperfections in just a few passes.
Image: Courtesy of PAC Cosmetics
Lakmé India presents a range of versatile and perfect foundations with an integrated primer. Available in 16 shades, the solutions come in neutral, warm and cool shades. This range glides effortlessly on the skin to give you a naturally radiant look. It's the best foundation for oily skin than Lakmé has designed, among other things, collections of matte-free and shine-free foundations.
Image: Courtesy of Lakmé
Try this permanent foundation created by Estée Lauder to show off a natural look. It evens out your skin tone, covers under-eye bags or fine lines, and provides medium to full coverage all day long. The solution glides comfortably over your face and does not require constant touch-ups. It comes in a diverse range of shades that you can choose from.
Image: Courtesy of Estée Lauder
Wear confidence and turn heads by applying NYX Professional's Total Control Drop liquid foundation. It features a foundation brush that helps the solution blend effortlessly into your skin and deliver a smooth, velvety finish that lasts all day. You can get the coverage you want in just the right shade by simply adjusting the number of drops.
Image: Courtesy of NYX Cosmetics
Have you ever heard of a self-refreshing foundation? Shiseido offers you a unique solution formulated with ActiveForce™ technology that self-refreshes and keeps your skin hydrated for up to 24 hours. The texture is breathable and feels light and comfortable against the skin. It is generously resistant to heat and humidity, completed with the infusion of SPF 30.
Image: Courtesy of Shiseido
Discover Faces Canada's Weightless Matte foundation. It is a foundation that has a lightweight, multi-tasking solution enriched with natural ingredients like shea butter, quality extracts, and olive seed oil. It is dermatologically tested and designed to work on all skin types. If you are troubled by signs of premature aging and clogged pores, this could be the best foundation for oily skin with price variants.
Image: Courtesy Faces Canada
Frequently Asked Questions
Should I wear foundation if I have oily skin?
If you have oily skin, you can opt for an oil-free foundation with a matte finish. The market is full of oil-proof liquid foundations as well as powder foundations that do not wear off quickly and do not affect your skin harshly.
How do I choose the right foundation if I have oily skin?
Matte liquid foundations work best on oily skin. Look for oil-free, long-wearing foundations.
Are cream or liquid foundation good for oily skin?
Liquid foundations are generally oil-free and provide a matte, velvety finish that suits oily textures. Such solutions help prevent excess sebum production and do not clog pores.
Feature and hero image: Courtesy of Karolina Grabowska/Pexels